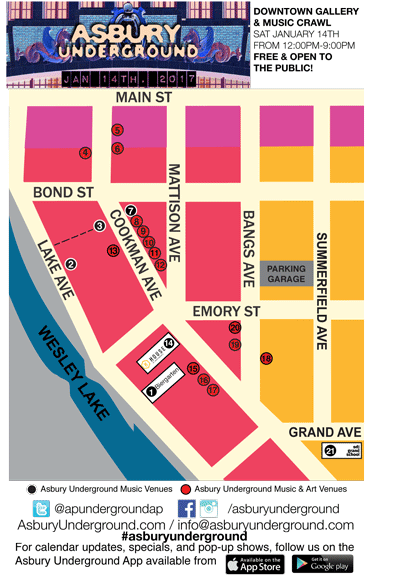 (ASBURY PARK, NJ) -- On the heels of the very successful Asbury Underground Art and Music Crawl which brought some 10,000 attendees to the downtown district of Asbury Park this past October  for a weekend of music, art and shopping, the Light of Day Foundation once again has invited Asbury Underground to produce the downtown leg of their festival, "The Light of Day Winterfest," which will take place on Saturday afternoon, January 14th.  This years' event, the fourth year running in conjunction with Light of Day, will feature some 60 performances by over 100 musicians, with the focus on original music, playing in 21 different locations downtown, mostly art galleries, café's, shops, and restaurants, in which 15 will be displaying original art for sale by local artists.
"This year marks our 17th Anniversary. Now called the Light of Day WinterFest, we once again return to Asbury Park.  We are very excited at the prospect of working with Patrick Schiavino, art629 Gallery and Asbury Underground. As past year's successes have proven, the relationship with The Underground and The Downtown brings a whole new dimension, energy, and excitement to our cause, the eradication of Parkinson's and its related neurodegenerative diseases, ALS and PSP.  Welcome and blessings to all!!!" Says Tony Pallagrosi, co-founder of The Light of Day Foundation, and long-time friend of Schiavino's, a local artist, owner of art629 Gallery and the founder of Asbury Underground.
"For a number of years, my desire had been to connect what Light of Day was doing on the Oceanfront with The Downtown. Pat really helped make that happen in an efficient and effective way for the Light of Day Foundation. We now have an event where audience and musicians alike flow freely between each area and venue, and where many musicians present their work in different formats at multiple venues, which was always my goal, throughout the 8- day festival. As an added bonus, increased sponsor commitment has allowed us to present a growing number of shows, including all of the Downtown events, all for free." Says Pallagrosi.
The "Asbury Underground" will be kicking off at Asbury Festhalle and Biergarten at noon for a special brunch presentation featuring local favorites, The Lakehouse Music Pros, for a one hour, high energy set, featuring the students of Asbury's Lakehouse Music Academy.   This, the ninth "Downtown Art and Music Crawl" will wind its way through the Downtown all afternoon before winding up at The House of Independents, downtown Asbury's new and premier venue for live performances, for an after-party which begins at 7PM and will go till midnight.  There will also be a special performance by the The Steve Riley Band back at the Asbury Festhalle and Biergarten which will begin at 10PM and go till 1AM.  Rather than a "guided tour" however, this no-frills event allows attendees to explore the Downtown with a map of participating venues which will be showcasing music and art.  A special Asbury Underground App is available for patrons attending the event which will have the schedule of shows and an easy-to-follow map which attendees can access from their smartphones.
The Asbury Underground App is continually active, and will offer users access to secret pop-up shows throughout the year, as well as exclusive discounts and specials at various Asbury Park retailers, restaurants, bars, and music venues.  The App is available at Apple App and Google Play for free.
---
The other venues featured on the tour are, art629 Gallery, Exhibit 9 Gallery, Oasis Home, Twisted Tree Café', Backward Glances, Holdfast Records, Fitness Lifestyles/BTII Gallery, Confections of a Rock Star, Café' Volan, America's Cup, Asbury Moto Club, Palette Gallery, Heaven Gallery, Parlor Gallery, Capitoline, Tony LaSalle Gallery, Toast Café, Glide Surf, and The Grand School.
"Once again there has been an overwhelming response from the local musicians who want to be part of this great event and very important cause.  I have been getting calls and e-mails from so many who want to be involved, it is just overwhelming how generous and cooperative everyone has been with their time and many talents", says Patrick Schiavino, Founder of Asbury Underground and owner of art629 Gallery.  "This will be our fourth Asbury Underground event done in conjunction with Light of Day.  Each year both festivals grow in popularity and attendance.  Our last Underground which took place this past October, drew an estimated 10,000 people to the downtown over the weekend.  I can't begin to tell you how grateful we all are here at both Asbury Underground and Light of Day, as each year we continue to grow and raise more and more money for such a worthwhile and important charity.  We couldn't do it without the continued support of all of these wonderfully talented people."
Featured musicians on the tour to date will be Pat Guadagno, Billy Hector, Richard Barone, Emily Grove, Porter & Sayles, Quincy Mumford, Paul Whistler, Stringbean and the Boardwalk Social Club, Dentist, George Wirth, Bruce Tunkel, Arlan Feiles, Ron Santee, Chris Brown, Blisstique, Colton Kayser, Dan Matlack, Sunday Blues, Joe Harvard, Amanda Duncan, Tara Dente, Geena, Doug Zambon, Julian Fulton, Xylophone of Wrench, Daughter Vision, Puppy Grease,  Dub Proof, Cat London, American Trappist, Joshua Mark, Mike Askin, Karen Mansfield, Renee Maskin, Keith Monacchio, Jennifer Lampert, SOF, One Banned Man, Jeff Goldenberg, Mike Noordzy, Jamie Coppa, gods, Nick Paolise, Ryan James Sloan, Couch Sound, Joe Cirotti, Doctor Danger, Sam Sims Band, Milly, Jesse of Accidental Seabirds, The Lakehouse Music Pros, and The Steve Riley Band.
There will also be a special added attraction this year at a new venue, The Grand School, located at 500 Grand Avenue, at 1PM, where there will be a performance by five premier singer/songwriters who will be performing acoustic music written by the Beatles in a round-robin format, see what Tony Pallagrosi has to say about it following:
"ALL TOGETHER NOW merges the Nashville style singer/songwriter circle with the music of the world's most significant band in the history of rock music, The Beatles, says Pallagrosi.  "The artists will be arranged on stage in a semi-circle and will each perform, acoustically and round robin. They will each play 3 songs written by any member or members of The Beatles (Any song written by a Beatle is fair game!) and will play a fourth song, an original composition, that was influenced in some meaningful fashion by John, Paul, George or Ringo! Stories surrounding their choices will embellish the performances!  This first edition of ALL TOGETHER NOW features Ben Arnold, Richard Barone, The Weeklings Bob Berger, Laura Crisci and Emily Grove."
"Asbury Park has a long tradition as being the premier destination for original music here in the State, but what most people are unaware of, is that it is quickly becoming one of the most concentrated areas for the fine arts as well, and on January 14th, we will be joining the two art forms together in what I hope will bring a broader awareness of just how fertile in all of the arts our City truly is."  Patrick Schiavino, art629 Gallery.
For participating artists and the full event schedule updates visit www.asburyunderground.com.