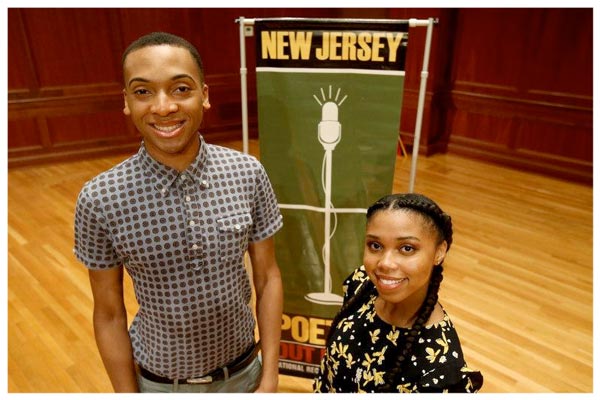 (EWING, NJ) -- Amos Koffa, a student from the Burlington County Institute of Technology, was named State Champion at the 2017 New Jersey Poetry Out Loud (NJ POL) State Finals competition, part of the national poetry recitation program. The state finals took place Thursday at The College of New Jersey. Mr. Koffa will now move on to represent New Jersey at the national finals in Washington, DC to compete against champions from every state and territory, all vying for the national title and the chance to win prizes including college scholarships.
POL is a national poetry recitation program through which students learn to perform great works of classical and contemporary poetry. The State Finals is the culmination of a statewide contest that began in the fall and included more than 25,000 New Jersey students from 160 high schools. Students competed first at the classroom and school level, and then at the regional level to determine the 12 finalists who would move on to Thursday's competition.
Along with Mr. Koffa, Breana Sena, from Dr. Ronald E. McNair Academic High School, earned the title of State Runner-Up. Following is a list of the 12 student finalists:
Amos Koffa, Burlington County Institute of Technology (Medford)
Breana Sena, Dr. Ronald E. McNair Academic High School (Jersey City)
Arianna Diaz, Plainfield Academy of Arts and Advanced Studies
Claire Choi, Northern Valley Regional High School at Old Tappan
Danyal Malik, Holmdel High School
Emily Li, The Lawrenceville School
Francis Virtucio, Vineland High School
Megan Brown, Ocean County Vocational Technical School (Lakehurst)
Mitra Sharif, Madison High School
Peter Sparacio, Atlantic County Institute of Technology (Mays Landing)
Victoria Fanning, Morristown High School
Zachary Olson, Summit High School
Now in its 12th year, POL was created by the National Endowment for the Arts and the Poetry Foundation, and is carried out in partnership with the State Arts Agencies around the country. The New Jersey State Council on the Arts runs the year-long NJPOL in partnership with Writers Theatre of NJ, in collaboration with Discover Jersey Arts (an initiative of the Council and the ArtPride NJ Foundation). The program is administered with a host of regional partners including the Bergen County Division of Cultural and Historic Affairs, Rutgers Camden Center for the Arts, Mayo Performing Arts Center, South Orange Performing Arts Center, Count Basie Theatre, Levoy Theatre and CavanKerry Press.
PHOTO: 2017 New Jersey Poetry Out Loud State Champion Amos Koffa and State Runner-up Breana Sena.