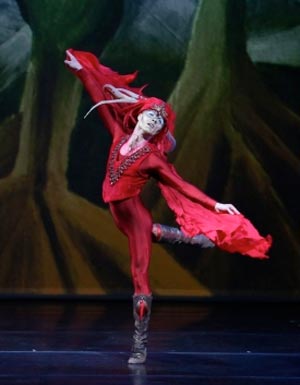 (NEW BRUNSWICK, NJ) -- American Repertory Ballet will host its annual Gala, themed Pride and Prejudice: An Evening of Timeless Elegance, on Saturday, March 25, 2017, at 6:30pm at the Heldrich Hotel in downtown New Brunswick, NJ.  This year, the annual gala honors Thomas F. Kelso, Esq., for his outstanding leadership in the arts community, and Kathleen Moore Tovar, the recipient of the 2016 Audrée Estey Award for Excellence in Dance Education.
American Repertory Ballet's annual gala celebrates and showcases the three branches of the organization: American Repertory Ballet, New Jersey's preeminent ballet company; its official school, Princeton Ballet School, one of the largest non-profit dance schools in the country; and ARB's Access & Enrichment programming.
The reception will include a gourmet dinner, dancing to the music of The Kenny i Orchestra, silent auction and more. Princeton Ballet School students ages 12-18 years can enjoy a Junior Gala with dinner, dancing and a silent auction, also at the Heldrich Hotel.
Thomas F. Kelso, a Phi Beta Kappa graduate of Rutgers University, (B.A. with distinction in History, 1972) and Brooklyn Law School, (J.D., 1975) has continually practiced law in the State of New Jersey in a wide range of areas. He possesses extensive knowledge and experience in civil litigation matters at the state and federal court levels, as well as in the areas of local and county land use, development and urban redevelopment. Mr. Kelso has served as Middlesex County Counsel since 2002. He was a founding partner of Gluck & Kelso, Esqs., and is now the senior partner of Kelso and Bradshaw, Esqs.  He is a founding member and current Chairman of the Board of Trustees of The New Brunswick Cultural Center, Inc. Mr. Kelso previously served as the first Chairman of the Board of the State Theatre Regional Arts Center at New Brunswick, Inc.
Kathleen Moore Tovar is a former principal dancer with American Ballet Theatre and a senior faculty member at Princeton Ballet School. She trained with Dame Sonia Arova and Thor Sutowski at the Alabama School of Fine Arts (ASFA) and attended summer intensives at the School of American Ballet and the American Ballet Theatre (ABT) School. Ms. Moore Tovar graduated from ASFA as a Presidential Scholar in the Arts and moved to New York to join ABT II in 1980. Invited by Mikhail Baryshnikov to become a member of the corps of ABT in 1982, she was appointed soloist in 1988 and Principal dancer in 1991. Her work included roles across the classical, dramatic, modern and contemporary repertory. Agnes de Mille, Twyla Tharp, Mark Morris and other respected choreographers created roles for her and she was a member of the premiere tour of the White Oak Dance Project under the direction of Mikhail Baryshnikov and Mark Morris in 1990.
---
American Repertory Ballet's mission is to bring the joy, beauty, artistry and discipline of classical and contemporary dance to New Jersey and beyond through artistic and educational programs, presented by a financially responsible organization.
For more information about American Repertory Ballet visit: www.arballet.org
Photo By Leighton Chen