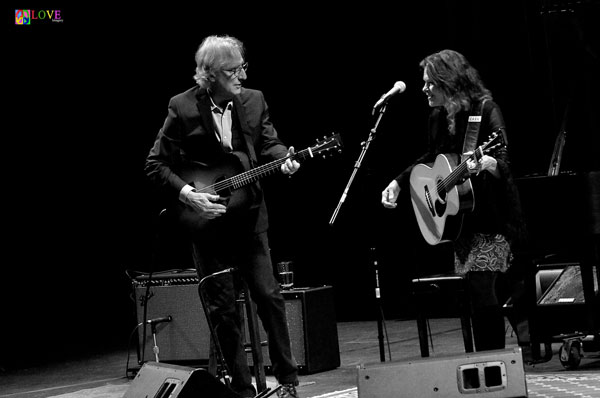 Rosanne Cash is one of music's pre-eminent singer/songwriters.
Altogether, Cash has had 21 Top 40 country hits, including 11 #1 singles. Her landmark 2009 album, The List, won the Americana Music Album of the Year award. Moreover, her latest release, The River and the Thread — a collaboration with her husband, writer/producer/arranger/guitarist John Leventhal — earned her three 2015 Grammy Awards.
On Thursday, April 6, 2017, the Jay and Linda Grunin Center of the Arts in Toms River, NJ, welcomed Rosanne Cash and John Leventhal to the Grunin Center stage for an "unplugged" performance of world-class Americana and country music.
The couple opened their 7:30 pm concert with a driving cut from Cash's The River and the Thread, "Modern Blue," Cash's gorgeous voice caressing the audience. As the strum of two natural-sounding acoustic guitars accompany her sweet vocal, she passionately sings, "I keep my head down/I keep my eyes on you/It's a big wide world with a million shades of modern blue."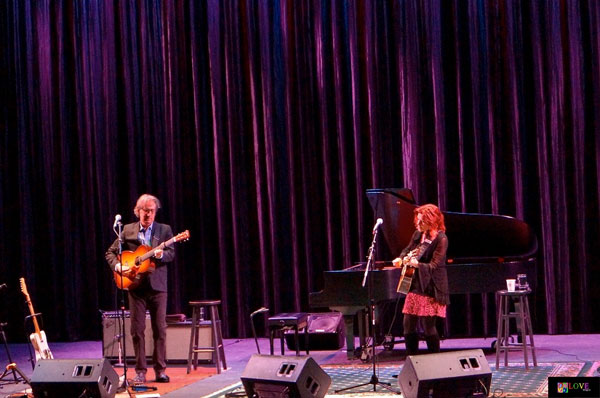 Following enthusiastic applause, Cash thanks the audience and introduces her next number, a country swing ballad she and Leventhal created based on Cash's family history.
---
"Here's a song about the American South, set in the Delta," she says, explaining, "In 1935, the Cash family moved there. At the time, my ancestor, Carrie Cash, was married to a man who was unkind, but she never complained."
In this number, entitled "The Sunken Lands," Cash sings with fiery emotion, "His words are cruel and they sting like fire/Like the devil's choir/Oh, oh/But who will hold her hand in the sunken lands?"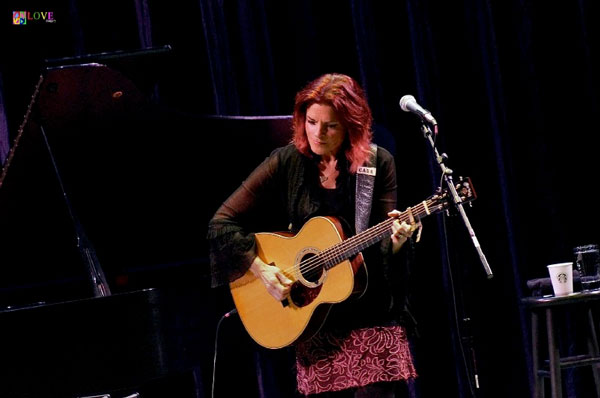 Relating a story associated with her famous father — country music legend Johnny Cash — Rosanne discloses, "My dad's bass player was Marshall Grant. He was married for 65 years to Etta Grant and, for years, they would ask themselves, 'What's the temperature?,' as their unique way of saying "good morning" to one another.
In her next number, "Etta's Tune," Cash's lyrics conjure up bittersweet images of the life of a world-traveled musician as she sings, "What's the temperature darling/As the daylight fades away/I'll make one last rehearsal/With one foot in the grave."
Following avid applause, Cash asserts, "It's obnoxious to tell an audience you've won a Grammy," before wryly adding, "but you get away with it every 30 years!" At this point, she and Leventhal perform another tune from The River and the Thread, "A Feather's Not the Bird," a rhythmic number for which she won two well-deserved Grammy awards. Here, the audience revels in Cash's wonderfully bluesy vocal performance and Leventhal's brilliant guitar work.
Mentioning "there's a Grammy competition in our house," Rosanne congratulates John on his latest Grammy win as producer of a recent album by the well-known '60's-era blues, rock, and soul artist William Bell.
As the audience applauds, Cash goes on to reveal, "John said we need to write a gospel song. Neither of us is religious, so we wanted to write one that even an agnostic might like."
As a result, the co-writers asked themselves a question — "What is it we all share — those with or without religion?" going on to answer, "It's a hunger. We all long for something — a longing to connect — to know that our work matters."
At this point, the duo performs a tune which a lucky audience member requested before the concert by sending a note backstage to Ms. Cash and Mr. Leventhal. In the song — an appealing country concoction entitled, "The Long Way Home" — the interplay between guitar and vocal is featured as Cash sings with sincerity. When the audience enthusiastically applauds, Cash exclaims, "We don't usually do that one — it was a little scary, but fun."
Going on to note, "This is one of the most intimate concerts we've ever done, so you can get louder — and you probably will on this one," Cash and Leventhal perform "Dreams," a song featuring John's hammer-on guitar part and lead with Rosanne deftly accompanying him on guitar.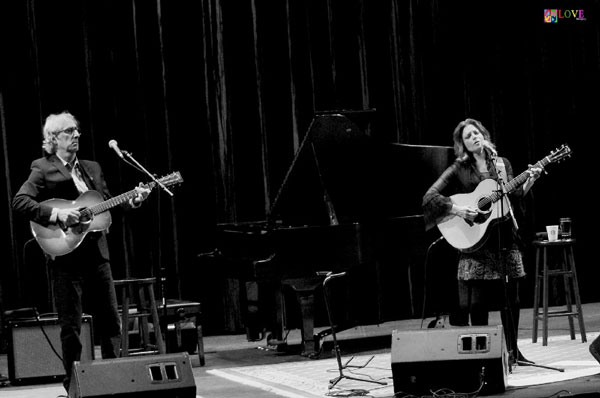 Moving on to one of the highlight tunes of the evening, Cash says, "Next up is a song by the great Hank Snow." As members of the audience softly sing or tap along, Leventhal plays a slinky walking bass along with chords on this number called "I'm Movin' On." Following her beautiful natural-sounding lead vocal, Leventhal takes center stage with a twangy blues guitar solo, at which point Rosanne reacts by smiling and saying, "Move on, John!" At the end, when the audience cheers, Cash smiles and comments, "I don't believe old Hank ever did it that way!"
Next up is a number which Cash calls the "centerpiece song" of The List, an album featuring twelve tunes from a list of one hundred her father gave her when she was 18 years old to expand her knowledge of country music. Featuring a gorgeous Leventhal guitar intro, Rosanne performs a cut from the recording entitled, "Long Black Veil." In this number — one which Rosanne calls "a good ghost story" — she creates vivid imagery in her listeners' minds when she hauntingly sings, "Ten years ago on a cold dark night/Someone was killed 'neath the town hall lights/There were few at the scene, but they all agreed/That the slayer who ran looked a lot like me."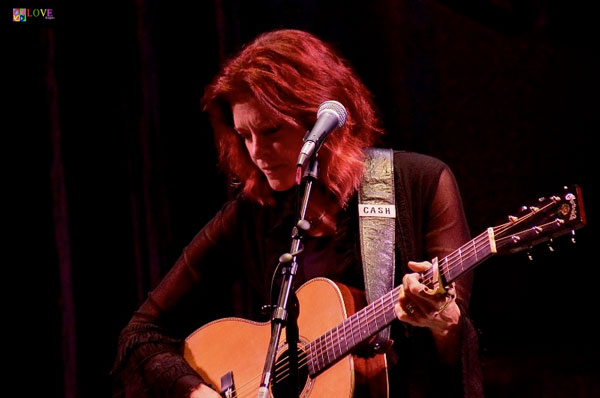 Cash and Loventhal follow up that selection with a song Rosanne recorded with Bruce Springsteen. After looking around to see if Springsteen happens to be in the audience at this Jersey Shore venue, Cash wonders aloud, "Is he here?" and then explains, "Well, John has agreed to step in for Bruce — and that's a big feat here in New Jersey." At this point, the couple launches into a rockin' version of Don Gibson's "Sea of Heartbreak," beautifully harmonizing together on the tune's catchy chorus.
Announcing, "I wrote this next song when I was 22 years old — younger than my youngest daughter is now," Cash gives an emotional performance of a tune which was a #1 country hit for her in 1981 — "Blue Moon With Heartache."
Following appreciative applause, Cash says, "We're not the first people to go to the Delta and write songs, but this next song did inspire us." Here, she and Leventhal perform a sensational unplugged cover version of Bobbie Gentry's 1967 #1 hit, "Ode to Billy Joe." After Cash sings the well-known verses and chorus, Leventhal improvises on the song's coda and ultimately loosens his low E guitar string an octave, allowing it to ever-so-slowly slide down, creating the perfect ending to this classic country pop hit.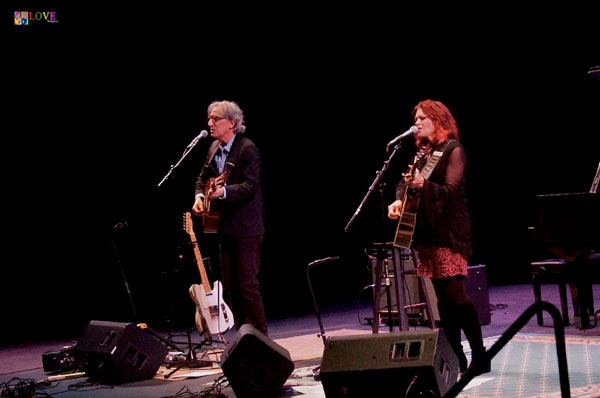 Asking if anyone in the audience has any requests, the duo agrees to perform "Sleeping in Paris," and they follow that up with a John Hyatt tune which Cash calls "a big record for me" — her slightly Latin-influenced 1987 #1 country single "The Way We Make a Broken Heart."
Stating, "When I was 18, I went on tour with Dad and Carl Perkins and the Carter family," Cash recalls, "and we'd be sitting around when Dad was on stage and the Carter women would teach me how to play guitar." Going on to acknowledge, "I owe them a tremendous debt," Cash introduces her next number asserting, "Maybelle Carter was a badass guitar player — and this is one of the songs the Carter family taught me." Here, Rosanne performs the country classic, "Bury Me Under the Weeping Willow Tree."
And after disclosing to the crowd, "One of the great honors of my life is when Linda Ronstadt and Emmylou Harris recorded this song of mine," Cash launches into a unique personal rendition of "Western Wall," her pure, natural-sounding voice captivating the entire Grunin Center audience.
Thanking the audience for their positive reaction, Cash tells a story about how her ex-husband, Rodney Crowell, and her present husband, John Loventhal, wrote a melody together which Rosanne once asked if she could use for herself.
"No, it's for Emmylou Harris," she was informed.
Eventually, when Harris didn't use the melody, Cash employed it in writing her own narrative ballad about two of her Civil War ancestors, William and Mary Anne Cash. Featuring a Johnny Cash-style country guitar accompaniment, Rosanne brings a feeling of true culture to this audience when she sings like she's praying on this solemn piece entitled, "When the Master Calls the Role."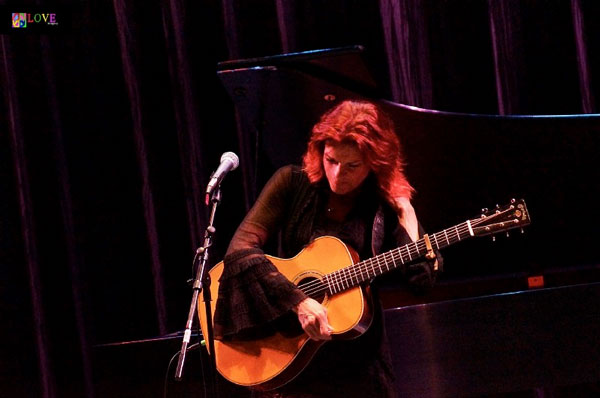 The crowd erupts when Cash sings the line, "Though the storm clouds gather/Let the union be made whole."
Next up for Cash and Leventhal is a crowd-pleasing story song entitled "Tennessee Flat Top Box," featuring John on his Fender Telecaster electric. The entire audience claps mightily following Leventhal's "Day Tripper" guitar lick ending.
Acknowledging, "It was great coming out for this 'living room concert,'" Cash picks up her guitar and points to Leventhal while disclosing to the crowd, "He actually laughs at my playing." Performing her very first #1 country hit, 1981's "Seven Year Ache," her resonant voice fills the room, bringing the entire audience to its feet.
"Thank you so much," says Cash.
Returning to the stage for a highly-anticipated encore, Rosanne tells the Jersey crowd, "You are small, but you are mighty!" 

 

When a fan in the audience — referring to Cash's lovely rust-colored hair tint — shouts out, "I love your hair!" Cash replies, "As I get older I'm not gonna get more conservative. If I'm gonna be old, I'm gonna have pink hair if I want."
For her final number, Rosanne introduces a tune she considers "one of America's greatest folk songs," and performs a tender, sweet, and heartfelt rendition of "500 Miles." Singing with conviction as John's dreamy and swirling Telecaster sound rings out, the music the couple makes sounds beautiful, filling the hearts of all present.
Following yet another standing ovation, Cash says, "Goodnight, my friends," as several members of the audience can be heard overtly replying to her, "Thank you."
As we file out into the Grunin Center lobby, we take a moment to chat with several members of the audience about the performance we've all just experienced by John Leventhal and Rosanne Cash.
Chris from Point Pleasant says, "I just didn't realize how good she was," adding, "You never hear the stories behind the songs on records and they add a different level of understanding to the music."
Likewise, Chris' wife Nancy reveals, "I wasn't familiar with Rosanne's music, but our daughter got us tickets for our 44th wedding anniversary so we could have a 'date night.' I have to say that I really enjoyed her music and I can't wait to listen to more of it," as Chris acknowledges, "We will definitely be following Rosanne Cash from now on."
Similarly, Jennifer from Manahawkin tells us, "This is the first time I've seen Rosanne. I love her voice — she's wonderful," and Jennifer's husband, Steve, goes on to talk about Cash's "fantastic songs," his "favorites" being 'The Way We Make a Broken Heart' and 'Seven Year Ache.'"
Lastly, we chat with Valerie Vaughn, a professional singer from Tuckerton, NJ, who asserts, "The Grunin Center sound was exquisite and Rosanne Cash's voice is stronger and better than ever. You can hear the roots of her heritage — her music comes both from the soul and from the heart of America."
Moreover, Valerie continues by noting, "I was blown away by John Leventhal. He played bass, rhythm, and lead all at once on his guitar, with dynamics and passion," before concluding with a smile, "I was really touched and moved by this concert. Rosanne Cash is true American musical royalty."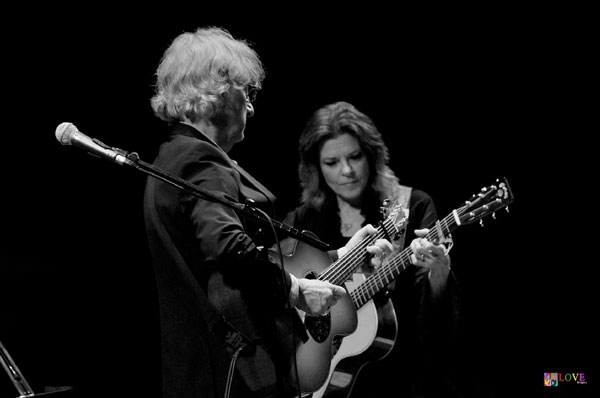 To learn more about Rosanne Cash's music, her upcoming concerts, and her work with her husband, John Leventhal, please go to rosannecash.com. For more information on upcoming programming at The Jay and Linda Grunin Center of the Arts in Toms River, NJ — including American Idol's JAX Live in Concert on June 2, 2017 — please go to grunincenter.org.
Photos by Love Imagery
Spotlight Central. Your source for Jersey entertainment news and reviews
Love Imagery Fine Art Photography. all you need. peace/love/flower/power