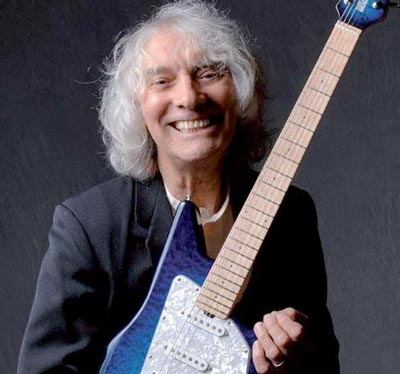 (NEWTON, NJ) - The Newton Theatre presents guitar great Albert Lee, with his band, on Saturday, January 14, 2017 at 8:00pm. Lee first came to prominence during the sixties in British Blues band Chris Farlowe and The Thunderbirds. After working in the UK touring with acts such as Bobby Bare and Skeeter Davis, Lee's next full-time gig was two years with Head, Hands, and Feet - the UK answer to the Flying Burrito Brothers and Nitty Gritty Dirt Band. 
His reputation grew and session work blossomed, including appearances on "The London Bo Diddley Sessions" for Chess and Jerry Lee Lewis' "The London Sessions". This and other work with U.S. based greats led to a permanent position in American rock band The Crickets, and by the time that ended Albert had long since made Southern California his home. There he became friendly with Don Everly. The two played regularly on a formal and informal basis, with Albert contributing to Don's 1974 solo effort "Sunset Towers". The move to California also led to work on sessions for the debut album of Jackson Browne.
Lee joined Joe Cocker's band in the mid '70s, then was signed to A & M records as an artist in his own right. The solo album's completion was delayed by constant touring and studio work, primarily in Emmylou Harris' Hot Band. After five albums he ended his touring tenure with the Hot Band to complete his solo album, and "Hiding" was finally released in 1979.
An invitation around the Christmas season in 1978 led to a five year adventure for Albert in Eric Clapton's band. The live album "Just One Night", recorded at Budokan in December 1979, was the first release (April 1980) to feature Albert, who went on to record three more with Eric.
His studio work in this period continued, including contributions to albums by Rosanne Cash, Dave Edmunds, Rodney Crowell, Nanci Griffith, Carlene Carter, and countless others. His solo efforts continued as well, with the self titled "Albert Lee" in 1982, and instrumental releases on MCA - the acclaimed "Speechless" (1986) and "Gagged But Not Bound" (1987).
When The Everly Brothers reunited on September 23, 1983 at London's Royal Albert Hall, Albert was on hand as guitarist and Musical Director. He continued in that role for over 20 years until the Brothers retired. An invitation in 1987 by steel guitarist Gerry Hogan for Albert to play his annual festival led to the formation of Albert Lee and Hogan's Heroes, who remain an active touring force in the UK and Europe - and a recording force worldwide, with 7 albums to their credit.
Albert remains an occasional member of The Crickets, and tours regularly with Bill Wyman's Rhythm Kings. Sugar Hill records released Albert's solo efforts "Heartbreak Hill" in 2003 and "Road Runner" in 2006.  A summer 2011 jaunt with John Jorgenson prompted Albert to form his own U.S. band for the very first time.
The Albert Lee Band includes John Thomas, aka  "J.T', on keyboards. J.T.'s musical resume includes 23 years with Bruce Hornsby, who graciously called John "the greatest keyboard player in the band." Emmylou Harris, Don Henley, Tracy Chapman and a host of others have called upon John's gifts. Bass player Will MacGregor's credits are a testament to his wide-ranging talents, having worked with the likes of the Pretenders, Pat Boone, Exene Cervanka, and more. Jason Smith brings both the subtlety of jazz and pounding pulse of rock to his drum stylings. Among his many credits: his jazz trio released the celebrated "Tipping Point" and "Think Like This" CD's , and on the rock side Jason toured with Five For Fighting.
Tickets for Albert Lee range from $22 to $37. Purchase tickets by visiting www.thenewtontheatre.com or contact the Box Office at 973-383-3700. 

The historic Newton Theatre, located at 234 Spring Street in Newton, NJ, was founded in 1924. Revitalized and fully renovated, Sussex County's premier entertainment venue reopened in 2011 as a 605 seat capacity live performing arts center. With it's rich history and diverse programming The Newton Theatre is essential to the buoyancy of New Jersey's Skylands region.