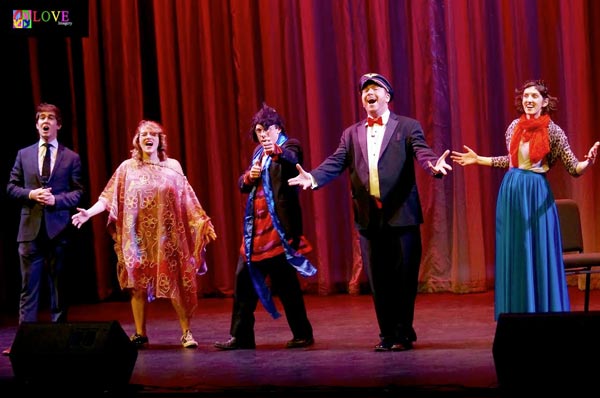 (BRANCHBURG, NJ) -- From daring acrobatics, to improvised musical comedy, to a husband's moving story of his wife's battle with breast cancer, to delightful puppetry and storytelling for children, and more—The Theatre at Raritan Valley Community College in Branchburg has a multitude of offerings for all audiences in April.
The following shows have been scheduled:
Golden Dragon Acrobats, Sunday, April 2, at 3 p.m.; $25 & $35 (Reserved seating) Adults and children alike will thrill to the breathtaking artistry and dazzling athletic feats of the Golden Dragon Acrobats. From tumblers to jugglers to contortionists and more, audiences will be treated to the best of a time-honored Chinese tradition that began more than 25 centuries ago. Recognized throughout the United States and abroad as the premier Chinese acrobatic touring company today, the Golden Dragons combine thrilling acrobatics, traditional dance, gorgeous costumes, and both ancient and contemporary music in an unforgettable performance of spectacular skill and spellbinding beauty.
Broadway's Next Hit Musical, Saturday, April 8, at 8 p.m.; $15 & $25 (Reserved seating) Broadway's Next Hit Musical could be described as the Tony Awards meets Whose Line Is It Anyway? Join the fun as talented artists from New York City's original, award-winning improvised musical comedy show gather made-up hit song suggestions from the audience and create a spontaneous evening of music, humor and laughter. Audience members cast their vote for favorite song, and watch the cast turn it into a full-blown improvised musical, complete with memorable characters, witty dialogue, and plot twists galore. Don't miss the next great American musical—it could be written by someone in the RVCC Theatre. To add to the fun, audience members may arrive fashionably early and walk the red carpet at the Phonys (kind of like a fake Tonys), where they'll be interviewed by a hilarious emcee extraordinaire. The paparazzi will be in a frenzy.
Pierre Bensusan, Thursday, April 13, at noon & 7 p.m.; $15 (General admission) Pierre Bensusan is considered one of the most eloquent and unique world musicians performing today, as his shows take audiences on a mesmerizing musical journey. The French-Algerian guitarist/singer's compositions and improvisations express an unparalleled sense of freedom. His style defies classification, encompassing world, classical, jazz, traditional, folk and more, fusing cultures in ways never before experienced.
---
The Actual Dance – A Love Story (Sam Simon), Tuesday, April 18, at noon & 7 p.m.; $15 (Recommended for ages 14 and older; general admission seating; includes discussion and light refreshments) One of the most beautiful love stories ever told, The Actual Dance is a graceful and inspiring journey through the uncharted waters of illness, where the resilience and power of the human heart ultimately persevere. First noticing his wife at age 16, Sam Simon could not predict the profound connection they would share. In their 33rd year of marriage, that love was tested. The one-man show presents an important but rarely heard point of view: the man's story and voice in the breast cancer experience.
Grug and the Rainbow (Windmill Theatre), Friday, April 21, at 10 a.m., 12:30 p.m. & 4 p.m.; Saturday, April 22, at 10 a.m. (sensory-friendly performance) and 1 p.m.; $10 (Recommended for ages 2 and older; general admission seating) Once upon a time, the top of a Burrawang tree fell to the ground and became—Grug! The classic Aussie hero is back and ready to enchant a new generation of youngsters. Audience members will watch in wonder as this adorable little bush animal embarks on an epic journey to find the rainbow that always seems just beyond his grasp. Adapted from the popular Australian picture book series, this production features the exquisite puppetry and gentle storytelling that has delighted audiences around the world. The Saturday, April 22, 10 a.m. sensory-friendly performance is designed especially for children with autism or related conditions who experience heightened sensory sensitivity. The program offers a safe and judgment-free space that is welcoming for all families. Seating is general admission, allowing families to choose a comfortable space. Families that have not been to The Theatre at RVCC before are invited to visit the theatre space and explore the seating areas two hours before the show. They also may visit in advance by making an appointment date.  Free face painting will be available before the April 22 shows for all children in attendance. Face painting will be offered from 9:15-9:45 a.m. for the 10 a.m. show and from 12:15-12:45 p.m. for the 1 p.m. show.
Taylor, Chapin & EVA, Saturday, April 29, at 8 p.m.; $25 & $35 (Reserved seating)    When legendary singer/songwriters Livingston Taylor and Tom Chapin join forces with the breathtaking voices of EVA, audiences can expect a fresh, new and very exciting folk music show. Livingston Taylor, who hails from a musical family that includes brother James, is recognized for creating well-crafted, introspective and original songs that have earned him listeners worldwide. From contemporary folk to pop, three-time Grammy winner Tom Chapin's music and recordings span styles and generations. With roots in Australia, Ireland, the UK and USA, the ladies of EVA perform a seamless mix of traditional and contemporary original folk music, melding worldly sensibilities with time-honored musical traditions. Together, the exceptional artistry of these renowned musicians create an unparalleled musical dynamic and unique new sound.
For additional information or to purchase tickets for any Theatre production, contact the Box Office, 908-725-3420, or order online at www.rvccArts.org. Subscribers' packages are available. Senior citizen, student and group discounts are also available for most performances.