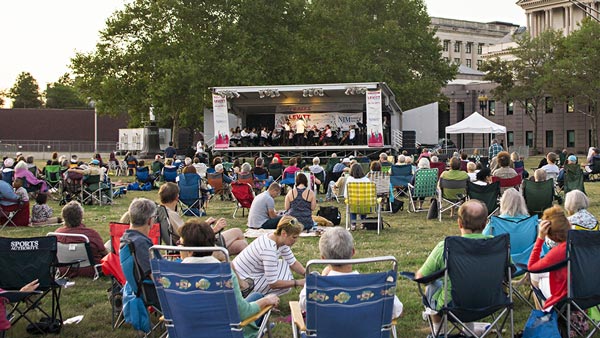 (TRENTON, NJ) -- The Levitt AMP Trenton Music Series and the Trenton Downtown Association have announced the headlining lineup for their free summer concert series, which takes place every Thursday between June 29 - August 31, 2017 in Mill Hill Park.  The series kicks off on June 29th with Derrick Hodge, a Grammy Award-winning jazz bass virtuoso from Willingboro.  From there on the series includes jazz, r&b, electronic fusion, hip hop, blues, power pop, soul, funk, and classical musical - something for everyone!
Concerts run from 5:00pm to 8:00pm.  Admission is free.  Attendees are encouraged to bring a blanket or lawn chair. Food vendors are available.
6/29: Derrick Hodge (Grammy Award-Winning Jazz Bass Virtuoso from Willingboro)

7/6: Sotomayor (Latin-inspired Electronic Fusion from Mexico)

7/13: Jeff Bradshaw (Smooth Jazz/Funk/R&B from Philadelphia)

7/20: Lawrence (Soul Pop from New York City)

7/27: Viva La Hop (Funk/Jazz/Hip Hop from Boston) 

8/3: The Steppin Stones (Blues Rock from Nashville)

8/10: Bad Rabbits (R&B/Soul/Rock from Boston)

8/17: Big Mean Sound Machine (Afrobeat/Dance/Funk from Ithaca, NY)

8/24: The Weeklings (Beatles-influenced Power Pop from Asbury Park) 

8/31: Capital Philharmonic of New Jersey (Professional Symphony Orchestra from Trenton)
For its third year, the Levitt AMP Trenton Music Series will activate Mill Hill Park—an easily-accessible, underused park in the state capital's historic downtown core—building upon the progress of the past two years, spurring economic activity and community participation, and bringing cultural and community activities to this green space.
Presented by the Trenton Downtown Association, a nonprofit dedicated to promoting economic growth and development as well as arts and cultural activities in the capital city.
---