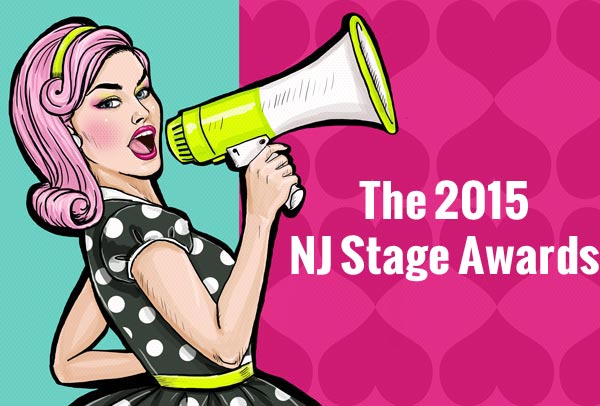 (BELMAR, NJ) -- In October, New Jersey Stage held online voting for its first ever NJ Stage Awards. The awards were set up to give the public an opportunity to voice their opinions on the best places to see and experience art in the Garden State. Categories included art, comedy, dance, film, music, theatre, and best arts town. New Jersey Stage intends to hold the awards every October. The winners were first announced in New Jersey Stage magazine (www.njartsmag.com).
"By all accounts, this was a huge success!" said Gary Wien, publisher of New Jersey Stage. "We weren't sure what to expect, but we wound up with just under 10,000 votes cast. Best of all, we were able to shine a light on arts organizations that may not be that well known throughout the state.
The big winner was New Brunswick, which was not only voted the best town for an arts night out but is the home to seven other award winners -- The State Theatre with 2 Golds and 2 Bronze Awards; Crossroads Theatre (Gold); New Jersey Film Festival (Bronze), and Zimmerli Art Museum (Bronze).
"Some winners were to be expected, while others took us by surprise," added Wien. "One of the unique aspects of our voting was that people were allowed to vote once a day and arts organizations were encouraged to promote the vote via social media. This allowed people to truly throw their support behind their favorites. In my opinion, social media is the great equalizer for arts groups. As the list of winners proves, social media can let the smallest organizations compete with the big boys!"
Here is the complete list of winners.
---
THEATRE
Best Place To See A World / NJ Premiere
GOLD Crossroads Theatre
SILVER Paper Mill Playhouse
BRONZE New Jersey Repertory Company
Best Place To See A Touring Production
GOLD State Theatre
SILVER Mayo Performing Arts Center
BRONZE Bergen Performing Arts Center
Best Place To See Non-Equity Theatre
GOLD The Players Guild of Leonia
SILVER Cranford Dramatic Club
BRONZE Bergen County Players
Best Place To See Children's Theatre
GOLD State Theatre
SILVER BergenPAC
BRONZE The Growing Stage
---

MUSIC
Best Place To See A National Act
GOLD New Jersey Performing Arts Center
SILVER Count Basie Theater
BRONZE State Theatre
Best Place To See Emerging Artists
GOLD Roxy & Dukes
SILVER The Stone Pony
BRONZE Clash Bar
Best Annual Festival
GOLD Michael Arnone's Crawfish Fest
SILVER Muses In The Vineyard
BRONZE Souper Groove Music Festival
Best Place For Classical Music
GOLD NJPAC
SILVER Count Basie Theatre
BRONZE State Theatre
---
Best Place To View Art
GOLD Hunterdon Art Museum
SILVER Grounds For Sculpture
BRONZE Princeton University Art Museum / Zimmerli Art Museum (tie)
---
Best Place For Live Comedy
GOLD Butch Bradley's Comedy Hideaway
SILVER Stress Factory Comedy Club
BRONZE The Comedy Shoppe
---
Best Place To See Live Dance Performances
GOLD Mayo Performing Arts Center
SILVER South Orange Performing Arts Center
BRONZE New Jersey Performing Arts Center
---
Best Film Festival
GOLD Golden Door Film Festival
SILVER Teaneck International Film Festival
BRONZE New Jersey Film Festival
---
Best Town For An Arts Night Out
GOLD New Brunswick
SILVER South Orange
BRONZE Asbury Park / Morristown (tie)
---

About New Jersey Stage
New Jersey Stage is a daily website (www.newjerseystage.com) and a monthly digital magazine (www.njartsmag.com) covering arts & entertainment throughout the state. The site contains news, features, and event listings added on a daily basis with roughly 200 articles added per month.