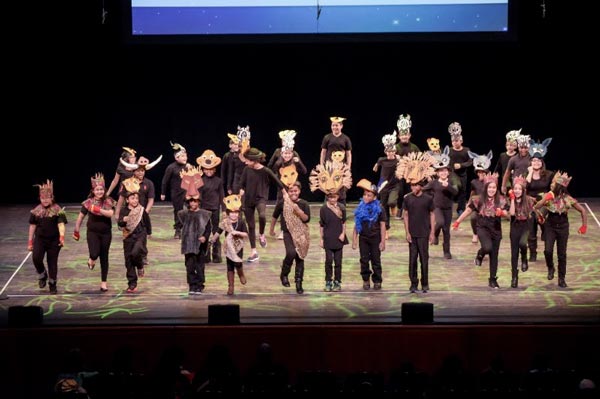 (NEWARK, NJ) -- How do you get to NJPAC's Prudential Hall stage?  Practice -- for exactly 17 weeks.

That was the amount of time blocked out by nearly 250 students in five Greater Newark elementary schools to "graduate" from the Disney Musicals in Schools program.  A rare opportunity, which brought the youngsters on stage to perform before an audience in the New Jersey Performing Art Center's main concert hall, was put into motion last year by a $100,000 grant awarded to the Arts Center by Disney Theatrical Group.

The recent event was titled a Student Share Celebration, but wishes fulfilled was an evident theme, beginning with a pièce d'occasion by famed Disney songwriter Alan Menken, "It Starts with a Dream." Belting out that opening number, dressed in colorful costumes of their own creation, were the ensemble casts of Branch Brook School, Luis Muñoz Marin School for Social Justice and Mount Vernon School, all in Newark, John Marshall School No. 20 in Elizabeth and Rosa Parks Community School in Orange, New Jersey.

Each of the public schools presented a leap-to-your-feet number from a Disney KIDS Musical – on this day, Aladdin and The Lion King reigned – while grown-ups beamed from their orchestra seats. The Disney grant provided for teaching artists to assist classroom instructors in producing the 30-minute musicals – presented for the school community – as well as such resources as performance rights, soundtracks and design guidelines, at no cost to schools. During the 17-week residency, students of various grade levels also collaborated behind the scenes on creative essentials like lobby displays and stage crew.

NJPAC is one of nine collaborators nationwide for Disney Musicals in Schools and the only one based in New Jersey.

NJPAC President and CEO John Schreiber and Newark Schools Superintendent, Christopher Cerf and led rounds of applause for the kids and their teachers, while Emmy-winning Eyewitness News anchor and self-confessed theater geek Lori Stokes stepped up to host. (Disney is the owner of her network, ABC.) A cast member of Broadway's The Lion King, Bonita J. Hamilton, spoke of her own experiences as an actor and the rewards of making lifelong friends of her onstage comrades.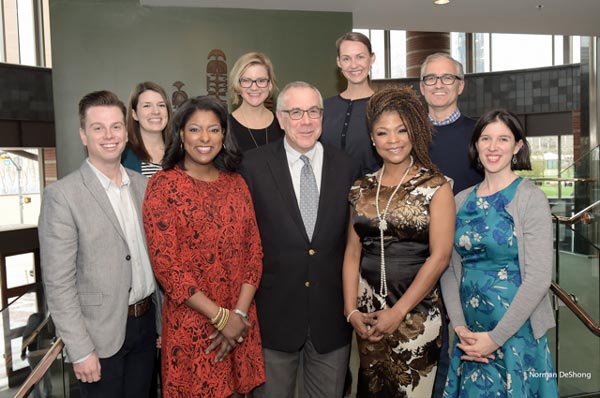 Photo #1: John Marshal No. 20 Students Performing 
Photo #2: Front Row (L-R): Timothy Maynes,  Disney Assistant, Education & Outreach; Lori Stokes, ABC-7 Eyewitness News Anchor; John Schreiber, NJPAC President and CEO; Bonita Hamilton, Ms. Hamilton plays Shenzi in Broadway's hit musical, The Lion King; Colleen McCormack, Disney Assistant Manager, Creative Development 

Back Row (L-R): Sarah Kenny, Manager, Disney Education & Outreach; Lauren Chapman, Disney Manager, Teaching & Learning and Resident Teaching Artist; Lisa Mitchell, Disney Senior Manager, Education & Outreach; David Schrader, Disney Executive Vice President 

 

Photo Credit: Norman DeShong
---