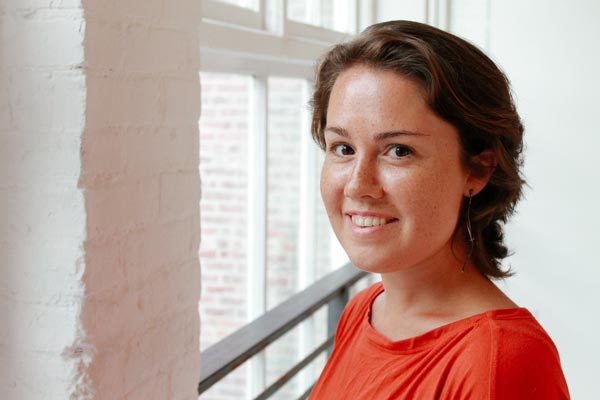 (PRINCETON, NJ) -- On Sunday, March 13 at 4 pm, the Princeton Symphony Orchestra (PSO) presents its Beholding Brahms concert featuring Pulitzer Prize-winning composer and violinist Caroline Shaw at Richardson Auditorium, on the campus of Princeton University. Ms. Shaw will perform the violin solo of her recently composed work Lo for Violin and Orchestra, co-commissioned by the PSO and the North Carolina and Indianapolis symphony orchestras in support of the Cincinnati Symphony Orchestra's MusicNOW Festival. Jean Sibelius' Pohjola's Daughter, Op. 49 and Johannes Brahms' Symphony No. 1 in C Minor, Op. 68 complete the program. PSO Music Director Rossen Milanov conducts.
A North Carolina native, Caroline Shaw began playing the violin and composing music at a young age. She received a Bachelor of Music degree from Rice University and a Master of Music degree from Yale University in violin performance. An occasional substitute violinist with the PSO, she won the 2013 Pulitzer Prize for Music for her composition Partita for 8 Voices, written for the Grammy Award-winning a cappella group Roomful of Teeth, of which she is a member.
According to Ms. Shaw, "Lo is part violin concerto, part symphonic poem. It begins with the simplest of means — a scale, starting on the lowest note of the violin and climbing gradually upward, crawling through various orchestral interjections along the way. Throughout the piece, the solo violin and the orchestra are equal partners, with the soloist acting as a thread that weaves in and out of the texture." Ms. Shaw cites Bartók, Monteverdi, and Brahms as grounding influences for her as composer and soloist.
Traces of Beethoven's profound impact on Brahms can be found throughout the First Symphony both in the 20-year period Brahms spent working on the piece and in the compositional elements themselves. Sibelius mined the rich folk history of his native Finland when establishing the subject matter of his symphonic tone poem Pohjola's Daughter, based on a tale from the Finnish national epic, The Kalevala.
The Princeton community will have two opportunities to meet Ms. Shaw. She'll be at the Pi Day celebration at the Nassau Inn on Saturday, March 12 at noon. Later, Ms. Shaw will discuss her creative process with Rossen Milanov during Behind the Music of Caroline Shaw at the Arts Council of Princeton's Paul Robeson Center on Saturday, March 12 at 4 pm. Free, ticketed reservations are available via princetonsymphony.org.
---
Tickets for Beholding Brahms are available at the following price levels: $75, $60, $48, and $30, and include admission to the 3 pm Pre-Concert Talk featuring Mr. Milanov and Ms. Shaw. Purchase at princetonsymphony.org or call (609) 497-0020.
Photo of Caroline-Shaw by Dashon Burton.