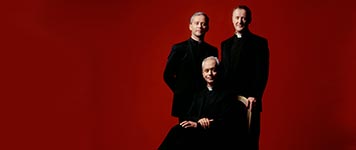 (SOUTH ORANGE, NJ) --  When people say "don't quit your day job," it usually doesn't bode well for musical success. But for the members of the classical crossover singing phenomenon The Priests, they somehow managed to climb to the top of the charts in the United Kingdom, Australia and Europe at breakneck speed, and still keep working at what they love best- being parish priests in Northern Ireland.
Since recording their first album in 2008 their dizzying schedule has included singing for the Pope, the Royal Family and the Irish President along with recording several albums, PBS Specials and concertizing throughout Europe and North America. All of these activities are in addition to pastoral duties in their home parishes in Northern Ireland.
Now they are coming to the South Orange Performing Arts Center on Wednesday, March 25 at 7:30 p.m. in a one-night-only performance as part of a limited United States tour.
"We are very pleased to have been selected as one of the 10 performance venues for The Priests 2015 U.S. tour, stated Mark Packer, executive director of the South Orange Performing Arts Center. "Their glorious singing will serve to inspire all who hear it and we are proud to present this unusual and exciting classical act."
Tickets for The Priests are available by calling the South Orange Performing Arts Center at (973) 313-2787 or by visiting the website at www.sopacnow.org/527/ThePriests.
About the Priests
---
The Priests are a classical musical trio made up of three Roman Catholic priests from Northern Ireland. The priests are Fathers David Delargy, Martin O'Hagan and Eugene O'Hagan.
All three have been singing together since they met in the 1970s as students at St MacNissi's College, County Antrim, and immediately realized their musical prowess as a singing trio. They were nicknamed "Holy Holy Holy" by their peers due to their shared determination to enter the priesthood. But it was a priest at their school who first noticed how talented they actually were. After leaving St. MacNissi's, they followed their vocational training at The Seminary in BelfastThe Priests concluded their training at the revered Irish College in Rome.
Almost immediately their combined and rare talent was recognized: They were invited in person by the Pope's private secretary, Monsignor Magee (the Papal Master of Ceremonies) to sing for Pope John Paul II in the sacred liturgy on numerous occasions.
The Priests' careers overlapped once again as they all eventually returned to Ireland, where they began their work in various special ministries. Each now lives the life of a full-time Parish Priest, tending to the spiritual needs of his parishioners and official duties at all church services.
In 2008 they recorded their first album, The Priests. They were stunned to find themselves holding the title in the Guinness Book of Records for the "Fastest Selling Classical Debut Album of All Time."
In the three consecutive following years - 2009, 2010 and 2011 - The Priests were nominated for the internationally-acclaimed Classical Brit Awards for "Classical Album of the Year".
The trio has also been featured in two PBS performance specials that have been hugely popular among American TV viewing audiences: The Priests in Concert at Armagh Cathedral and The Priests in Concert at Liverpool Metropolitan Cathedral.
The Priests Charitable Trust, to which The Priests donate the vast majority of their royalties, helps build schools in places like Cambodia, Uganda and Thailand, and looks after retired priests and the homeless.
About SOPAC

Since 2006, SOPAC has been serving as a premier performing arts center in the region. SOPAC offers innovative artistic and cultural experiences for diverse audiences in an intimate, inviting environment. The premier arts center hosts a variety of live performances, community events and education programs for all ages.  To further expand its offerings, SOPAC has a partnership with the Juilliard School of Music to present Juilliard @ SOPAC-a series featuring upcoming musicians from the acclaimed conservatory.  SOPAC is home for Seton Hall University Arts Council's performances, including Classical Concert Series, Jazz N' the Hall performances and Seton Hall Theatre productions.  SOPAC also presents performances by its theater company in residence, Midtown Direct Rep, and its dance company in residence, Lydia Johnson Dance.  For more information, visit SOPACnow.org